Safe Oregon Student Advocate- Lily Brown
The Oregon State Police started SafeOregon, a school safety tip line, in January of 2017. Since it's beginning, SafeOregon has received more than 5,000 school safety tips with over 1165 Oregon Schools enrolled in the program and serving over 534,000 students. The below article was written by Lily Brown one of our most outspoken SafeOregon advocates from Roseburg High School, who has chosen school safety as her platform after tragedy struck her hometown.
Four years ago, there was a tragedy at the community college in my hometown and from that day, I made the decision to take a stand against school violence. My name is Lily Brown and I am a SafeOregon student advocate and am so proud to promote the use of the school safety tip line to all Oregon students. School is a place of learning and school is NOT a place where fear belongs.
The implementation of SafeOregon has made a difference in the way students can report safety threats. SafeOregon is a safe way to report information that concerns students, the safety of others or the school. The tip line can be accessed from the privacy of a phone, home computer or other device equipped with internet. Oftentimes students do not report things that might concern them because they don't want anyone to know it came from them. The use of SafeOregon allows them to remain anonymous if they choose, thus making some students more apt to make a report. The fear of retaliation from another student who is potentially making dangerous threats is a serious concern to students I have spoken with. SafeOregon allows students access to reporting a concern while they are not at school or around the potential threat.
As a student advocate for SafeOregon, I have been able to speak to many schools throughout Oregon, meet with Governor Kate Brown and I am now a member of Safer Together, a partnership with my school district and our community safety agencies. Competing in scholarship pageants has also allowed me to use SafeOregon as my personal platform and another way to promote school safety. My goal in promoting SafeOregon is for every middle and high school student in Oregon to know what SafeOregon is and how to use it to report safety threats. Additionally, I would like to encourage more students with a passion for school safety to become an advocate for SafeOregon. Promoting safer schools is as simple as telling your friends to download the app and showing them how to use it. Social media is another great way of helping promote SafeOregon by sharing posts and gives tips about how to use the app.
The amount of school related tragedies is alarming, and we must put a stop to it. I am so proud to be an advocate for SafeOregon and will continue my push for all Oregon schools to be a safe place of learning. SafeOregon really can help students break that code of silence and keep a harmful behavior from turning into something tragic.
If you haven't already, please check out www.SafeOregon.com to learn all about the tip line. Make sure to follow me on Instagram @LilyBrownSafeOregonAdvocate, to keep up-to-date on what I am doing to promote school safety & SafeOregon.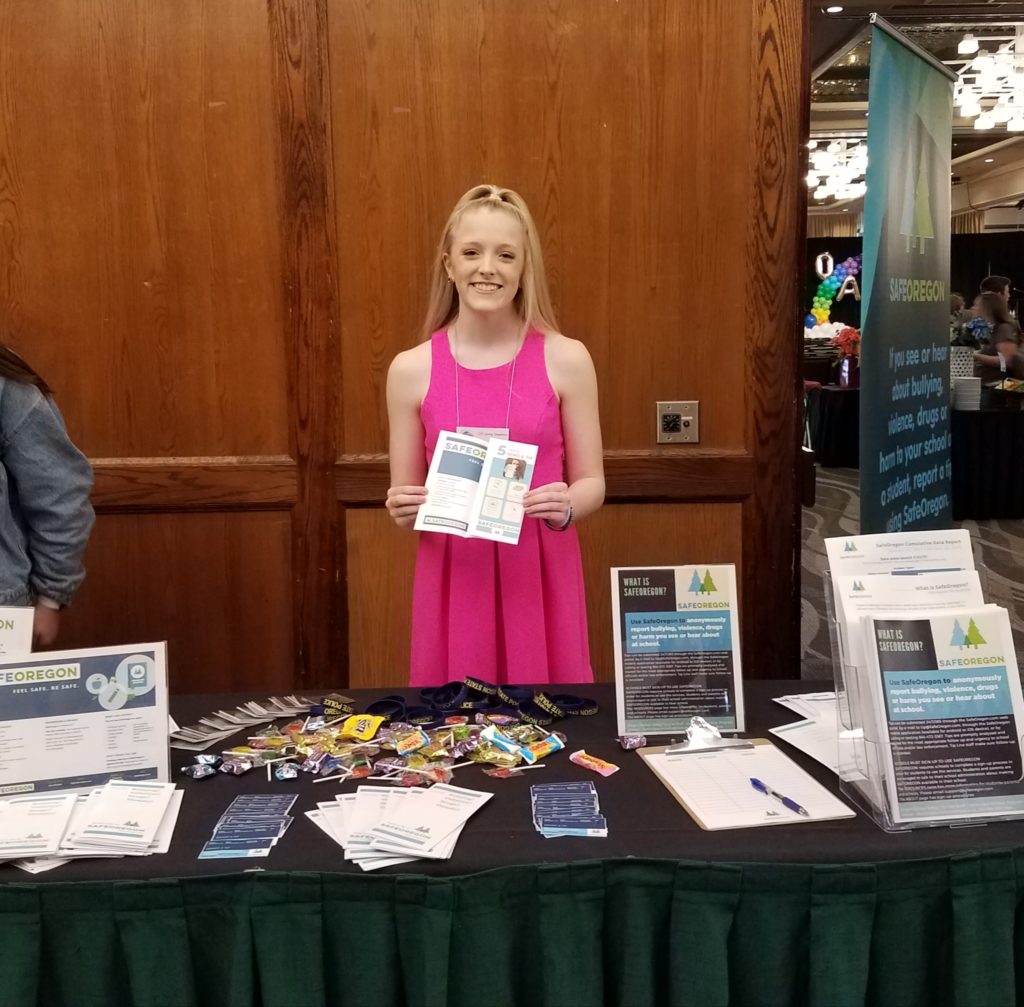 Lily Brown
SafeOregon Student Advocate